All Best Beaches in the World
Grace Bay
Providenciales, Turks and Caicos
Unbelievably clear, clean water with hundreds of shades of blues and greens and white sugar sand beaches
Blue Lagoon
Oludeniz, Fethiye Turkey
Also called Blue Lagoon, Oludeniz is a resort village in Fethiye. It's one of the most popularly photographed beach with amazingly blue ocean and beach and most of the time lands on the top 5 beaches in the world.
Beautiful town, enticing blue beach and spectacular views – Oludeniz is a must-see, must-swim, must-visit.
Bora Bora
French Polynesia Tahiti
Sugar sand, palms, breeze, sea that's 26-29C year round and the colour of peppermint mouthwash… Bora Bora is a cliched vision of the heavenly beach. Even if you never get to go, this is one for the mental image bank at least – use it when meditating. Matira has to win as the only public beach on the island, and somewhere you could mingle with locals.
As if a beach like this needed any enhancement, pink-hued sand ups the ante in the picture-postcard stakes at Source d'Argent, a secluded cove on La Digue, the Seychelles' third-largest island (in an archipelago of 115)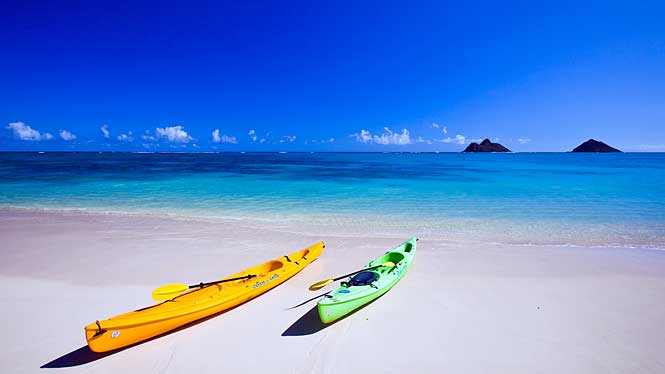 Lanikai Beach
Hawaii
Half a mile of sparkling sand, palm trees swaying over a white-sand beach, lush tropical plants, and endless sunshine make Lanikai one of Hawaii's most scenic beaches. The shore is protected by a nearby coral reef, which keeps the surf relatively calm. The water is always deep green and postcard-perfect.
Cala Gonone
Sardinia
It's not difficult to find a stunning beach on Sardinia, but finding one that caters for families on a modest budget is more of a challenge. Cala Gonone ticks all of the right boxes. White pebble-and-sand beaches, with sun loungers and parasols for rent, calm, turquoise waters for swimming and snorkelling, a long seafront promenade lined with low-key trattorias – and none of the bling that accompanies the glitzier Costa Smeralda to the north.
Baia do Sancho
Fernando de Noronha, Brazil
As you walk through a small trail, you can't imagine what awaits you. The heavenly view seems like a mirage
Playa Paraiso
Cayo Largo, Cuba
Picture perfect in every way. Gorgeous beach and the bluest water ever!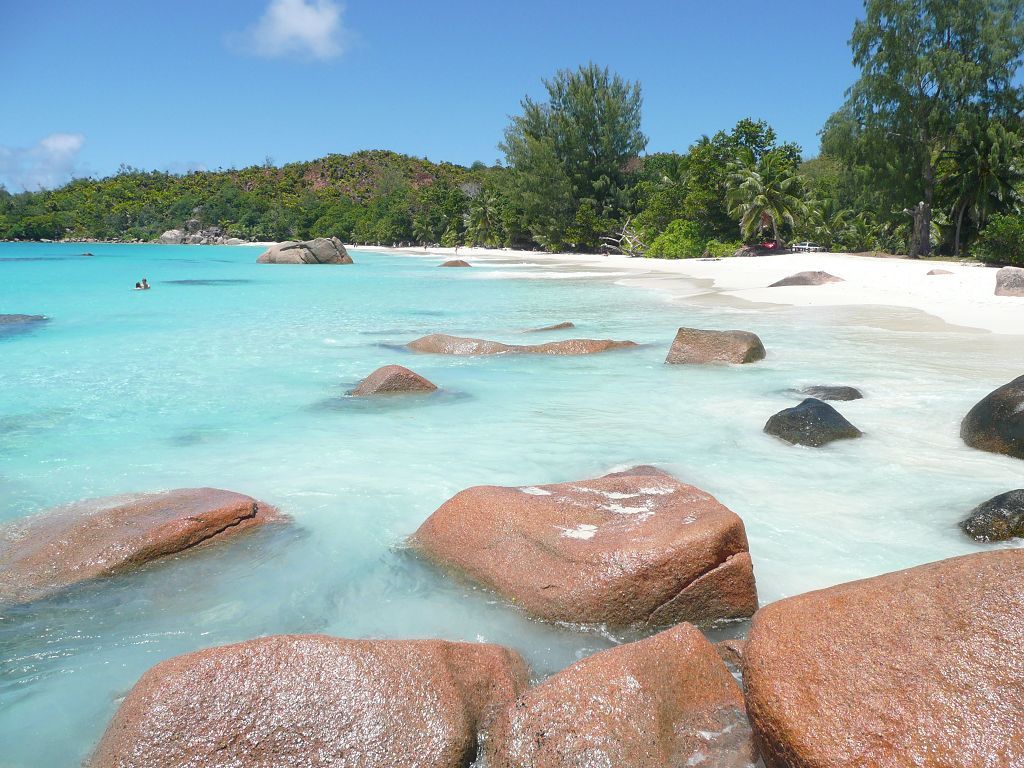 Anse Lazio
Praslin Island, Seychelles
Picture perfect, with crystal clear, warm waters, shade, sun and powder white sand
Maldives
Whether your dream beach trip consists of spending a few pampered nights in a four-star resort or swimming among tropical fish some 80 feet (24 meters) underwater, the Maldives are the sort of islands where either—or both—can come true. Straddling the Equator southwest of Sri Lanka, the 1,102 islands that make up the Maldives form 26 atolls. The soft air enveloping the archipelago blends into a beautiful palm-fringed haze.
Glass Beach
California
A beach made from years of dumped litter sounds like a hellhole but, at Glass beach, on the Mendocino coast in California, the result is quite beautiful. From 1906 to 1967, glass, appliances and even vehicles were chucked into the sea. A clean-up programme removed all the metal and non-biodegradable waste, and the waves broke down the glass and pottery, which washed up as jewel-like, translucent stones. Nowadays, the beach is part of MacKerricher state park, and visitors are forbidden for removing the sea-glass baubles.
Cayo de Agua
Los Roques National Park, Venezuela
An incredible beach of soft white sand surrounded on two sides by the Caribbean sparkling in all shades of blue.
Flamenco Beach
Culebra, Puerto Rico
The water was so clear and blue and gorgeous against the backdrop of the mountains. You can't take a bad picture here.
Playa de Ses Illetes
Formentera, Balearic Islands
"Endless sea, fine sand, spectacular views, yachts, fancy stalls, Ibiza on the horizon.
Ngapali Beach
Ngapali, Myanmar
"Three kilometers of beach without a soul to be seen. No seashells, no rocks, no vendors!
West Bay Beach
West Bay, Honduras
"Gorgeous beach. Just walk out a few steps to some of the best snorkeling on earth."
Nacpan Beach
El Nido, Philippines
"A long coastline, golden sand, beautiful crystal waters and a completely virgin landscape make a visit to this place unforgettable!"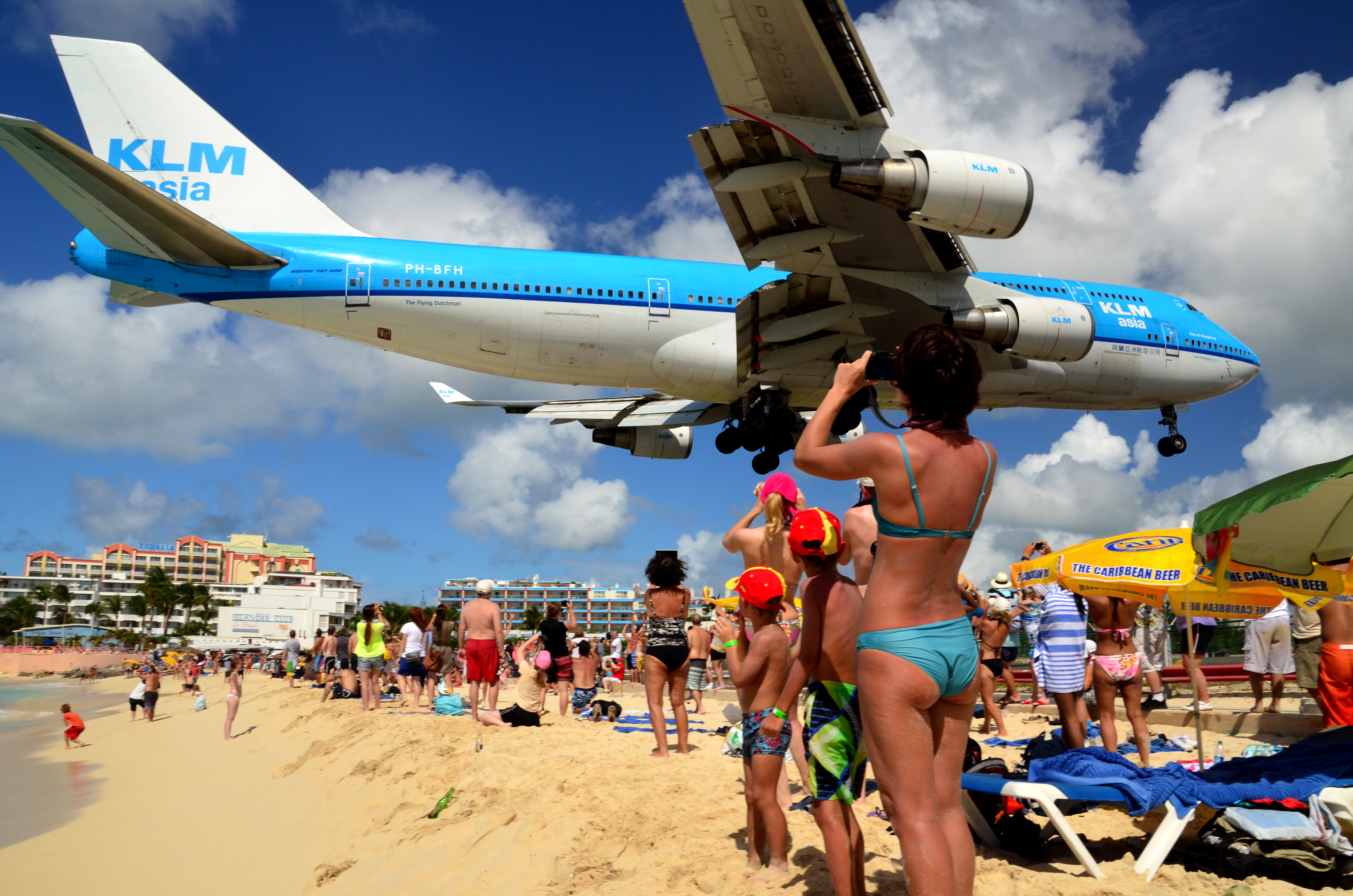 Maho Beach
Cruz Bay, St. John
"Beautiful beach with clear water. Swam with a sea turtle and came ashore to sunbathe with an iguana."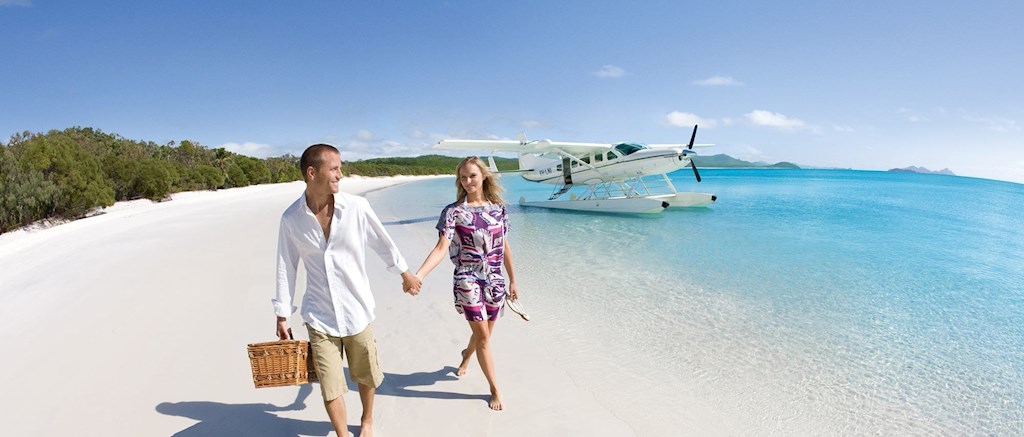 Whitehaven Beach
Whitsunday Island, Whitsunday Islands
"The whole beach is untouched. No stores, no restaurants, just the beauty of nature at its best."
Sharm El Luli
Marsa Alam, Egypt
"Paradise. Pristine, beautiful beach and a tropical aquarium under water."
Elafonissi Beach
Elafonissi, Greece
"The sea was calm and beautiful. The colors are intense—light blue water, pink sand. Paradise."
Fakistra
Greece
More of a cove than a beach, backed by cliffs and dense woods, with white sands and pebbles and clear blue waters – is Fakistra on the Pelion peninsula (mainland Greece), below Tsagarada village. It's a steep walk down but it's the sort of place that, apart from in July and August, you may well have to yourself.
Playa Manuel Antonio
Manuel Antonio National Park, Costa Rica
"Gorgeous beach, gentle tide, warm water. A swimmer's paradise."
Flamenco Beach
Puerto Rico
If asked to design the perfect tropical beach, Playa Flamenco on Culebra island, off the east coast of Puerto Rico, is probably what you would come up with. It's a U-shaped cove with white sand, warm turquoise water, palm trees, lush vegetation and a peaceful lagoon. The island's undeveloped state is partly thanks to the US military, which used to use it as a gunnery range – a rusting Sherman tank remains in the middle of the sand.
The Baths
Virgin Gorda, British Virgin Islands
"I've been all over the Caribbean, and this is the most beautiful place I've ever seen. We lost count of the beautiful, bold-colored fish that swam near us."
Playa del Amor (Hidden Beach)
Mexico
An underground beach sounds like the stuff of legend, but the Marietas Islands, where Hidden Beach lies, were used as a military testing ground by the Mexican government in the early 1900s, and it's suspected that a bomb may have created the crater in which it sits. Access to this crescent within a gaping circular hole in the landscape, is by swimming or kayaking through a long tunnel.
Camp's Bay Beach
Camps Bay, South Africa
"The sandy beach and massive, cold waves are just what's needed on a hot, sunny summer Cape Town day."
Starfish Beach
Panama
Panama has three archipelagos: San Blas is pricey to get to, the Pearl Islands are pricey to stay on, but Bocas del Toro, just south of Costa Rica on the Caribbean side, puts virgin beach utopia within a backpacker budget. From the funky town hub of Bocas on Isla Colón, boat taxis cross between the 10 inhabited islands and some 300 islands and islets, although this protected beach, gloriously decorated with a liberal smattering of starfish, is on Colón itself.
Praia da Marinha
Carvoeiro, Portugal
"Classic Algarve beach with sand, cliffs, rocks, caves, arches—it's got it all. Plus crystal clear water and an abundance of marine life on show"
Kata Noi Beach
Karon, Thailand
"Waves and water like baby bear's porridge: not too hot or cold, not too big or small. Simply perfect in every way. Really."
Clearwater Beach
Clearwater, Florida
"The sugar fine white sand is a trademark of this fabulous beach. Perfect for a day in the sun. You might even spot a dolphin or two playing on the horizon."
Koh Kradan
Thailand
Choosing the best beach in Thailand is a near impossible task. But one Thai island that's still relatively peaceful is Koh Kradan, near busier Koh Lipe, in the Andaman Sea. With powdery sand, excellent snorkelling on a reef just off the beach, hammocks and crystal-clear water, it would suit those who don't want to drink buckets of spirits under a full moon.
Playa Paraiso
Tulum, Mexico
"One of the most beautiful beaches I've ever seen. Swim, take a nap, read a book. You'll be happy to just be here."
Agonda Beach
Agonda, India
"Serene, tranquil beach, far from the madding crowd. Ideal place for meditation, sun worshiping or reading."
Horseshoe Bay Beach
Southampton Parish, Bermuda
"The perfect beach? Picturesque, with pink sand and gentle waves rolling in. Lovely at any time of the day."
Tumon Beach
Tumon, Mariana Islands
"The sand is white, the water a gorgeous blue. Swimming, snorkeling, paddle boarding or small water crafts—you can do it all here."
Praia de Santa Maria
Santa Maria, Cape Verde
"The weather, the amazing sandy beach and crashing waves, the fresh fish on the pier—all great memories!"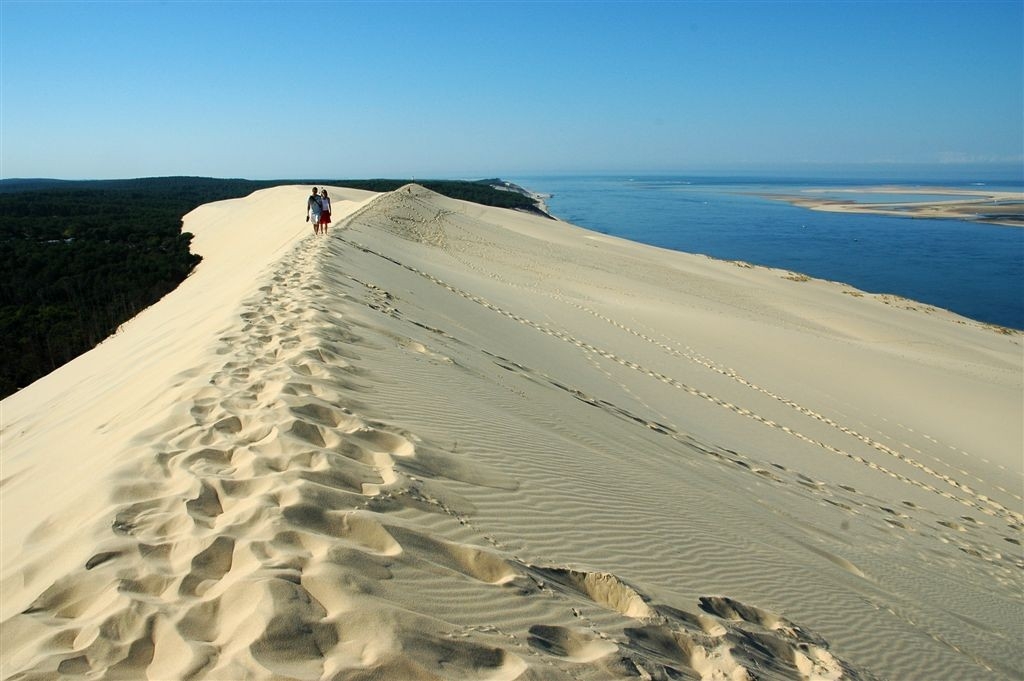 Dune du Pyla
France
This beach is Europe's tallest dune at over 100 metres. It's an hour's drive from Bordeaux and is literally dazzling. You will shield your eyes as much from the shimmering heat haze as the pristine sand.

Shoal Bay
Antigua
Icing-sugar sand, 3km of it, crystal-clear Caribbean water, off-shore coral reef with spectacular snorkelling or diving, a smattering of bars and open-air restaurants
Cala Saona
Formentera
There is no shortage of beautiful beaches on the smallest of the Balearics but everybody seems to want to cram on to Illetes and Espalmador. Much better to hire a bike or moped in the main port, La Savina, and head a few kilometres across the island to Cala Saona.
BEST BEACHES OF THE WORLD, BEST BEATIFUL BEACHES IN THE WORLD, SAND BEACHES IN THE WORLD; BLUE FLAG BEACHES IN THE WORLD